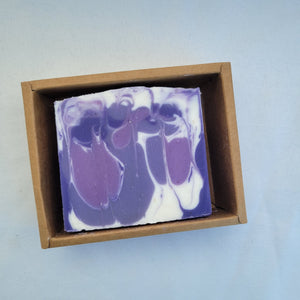 Lavender & Colloidal Oatmeal
Regular price $12.50 Sale
Absolutely, here's the Lavender and Oatmeal Artisan Soap listing following the template you've provided:
---
Lavender and Oatmeal Artisan Soap: A Tranquil Bathing Retreat
Delight in the soothing embrace of our Lavender and Oatmeal Artisan Soap, thoughtfully handcrafted with love and care to provide you with a calming and luxurious bathing experience. Each bar is a testament to our dedication, featuring a unique drop swirl design that ensures you receive a one-of-a-kind piece of art in every purchase.
Scent Profile: Immerse yourself in the calming aroma of pure lavender essential oil, offering a touch of tranquility and relaxation to your daily bathing routine.
Base Ingredients: Crafted with a commitment to quality, our Lavender and Oatmeal Artisan Soap is made using a harmonious blend of saponified Olive Oil, Coconut Oil, Tallow, and Castor Oil. These natural oils work harmoniously to cleanse and nourish your skin, leaving it feeling soft and rejuvenated after every use.
Bar Additives: Elevating the indulgence further, our soap is enriched with carefully selected additives. Lavender essential oil infuses an extra burst of lavender goodness, while Colloidal Oatmeal provides gentle exfoliation and soothing properties. Micas are used to add a touch of natural color, and Titanium Dioxide imparts a silky-smooth texture.
Benefits: Our Lavender and Oatmeal combination not only creates a delightful sensory experience but also offers a range of skin benefits. Lavender essential oil is renowned for its calming properties, promoting relaxation and reducing stress. Meanwhile, Oatmeal gently exfoliates and soothes, making it an excellent choice for sensitive or dry skin types.
Natural and Eco-Friendly: Embracing sustainability, our Lavender and Oatmeal Artisan Soap is crafted without harsh chemicals or synthetic additives. Palm oil-free and cruelty-free, it's a mindful choice that cares for both you and the environment.
Usage: Suitable for daily use, our artisan soap leaves your skin feeling soft, refreshed, and delicately scented, transforming your bath into a rejuvenating oasis.
Packaging: Committed to minimizing our environmental impact, our soap is thoughtfully packaged in eco-friendly materials, reflecting our dedication to a greener future.
Indulge in a truly relaxing and rejuvenating experience with our Lavender and Oatmeal Artisan Soap. Treat yourself or a cherished one to the natural goodness and luxury of this handcrafted soap. Elevate your bathing routine with the soothing scent of lavender and the nourishing properties of oatmeal. Place your order now and immerse yourself in the world of artisan soap, made with love and passion.