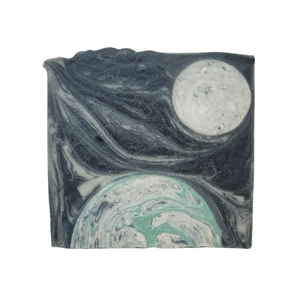 3rd Rock From the Sun Lemongrass
Regular price $12.50 Sale
Each bar is a unique masterpiece, carefully crafted to capture the essence of Earth, Sky, and Moon. While natural variations make each bar one-of-a-kind, they all share the captivating charm of the sample picture.
Fragrance Notes: Immerse yourself in the earthy lemon scent of natural Lemongrass Essential Oil. The refreshing aroma will evoke a sense of calm and tranquility.
Base Ingredients: Our soap bars are created with a blend of premium, skin-loving oils that provide a luxurious lather and leave your skin feeling soft and nourished. The base ingredients include Saponified Olive Oil, Coconut Oil, Tallow, Shea Butter, and Castor Oil. These high-quality oils work together to cleanse, moisturize, and pamper your skin, leaving it feeling refreshed and rejuvenated.
Bar Additives: To create a visual delight that complements the enchanting fragrance, we incorporate a harmonious blend of Micas, Pigments, Activated Charcoal, and Titanium Dioxide. These natural additives not only give our soap bars their captivating appearance but also contribute to a delightful bathing experience.
Craftsmanship: Our artisan soaps are created with heart and soul in every bar. The Earth, Sky, and Moon design in each bar is meticulously handcrafted to perfection. Our dedication to craftsmanship ensures that you receive a soap bar that is not only a joy for your senses but also a stunning addition to your bathroom decor.
Sustainability: We are committed to the environment and prioritize sustainability in our practices. Our soap bars are made with love and care, using responsibly sourced ingredients that have minimal impact on the planet.
Indulge yourself or treat your loved ones to a unique gift with our Artisan Soaps.