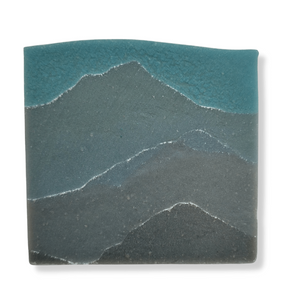 Mountain Man w/ Pumice
Regular price $12.50 Sale
Mountain Man with Pumice Artisan Soap: Invigorating Wilderness Experience
Experience the rugged beauty of the Pacific Northwest with our Mountain Man with Pumice Artisan Soap. Each bar is a unique masterpiece, handcrafted to perfection with natural variations, offering a one-of-a-kind bathing journey. Immerse yourself in the essence of the region with the exhilarating scent of crisp, fresh morning air that captures the untamed spirit of the Pacific Northwest.
Design: Our soap showcases an exquisite sculpted blue ombre mountainscape, expertly separated by silver mica lines. This design pays homage to the majestic allure of the Pacific Northwest Mountains, adding an enchanting touch to your daily self-care ritual.
Base Ingredients: At the heart of our soap are the finest components - saponified Olive Oil, Coconut Oil, Tallow, Shea Butter, and Castor Oil. These nourishing ingredients pamper your skin, leaving it soft, hydrated, and rejuvenated after every use.
Exfoliating Power of Pumice: Infused with fine ground pumice powder, our soap offers a gentle exfoliation that reveals a radiant, smoother complexion beneath. Let the natural exfoliating properties elevate your skin-care routine.
Pure and Natural: Prioritizing your well-being, our Mountain Man with Pumice Artisan Soap is enriched with high-quality natural additives. Experience the scent of the great outdoors with the invigorating fragrance, and delight in the benefits of Paraben-free/Phthalate-free Fragrance, Essential Oils, Mica, and Natural Pigments for a safe and refreshing bathing experience.
Perfect for Personal Use or Gifting: Whether for your personal indulgence or as a thoughtful gift for fellow nature enthusiasts, immerse yourself in the splendor of the Pacific Northwest with every luxurious lather of our Mountain Man with Pumice Artisan Soap.
Embrace the Wilderness: Elevate your self-care routine and embrace the untamed wilderness of the Pacific Northwest. Let the invigorating scent and exquisite design transport you to the rugged beauty of the region. Experience the majesty of the mountains with every use of our handcrafted soap.