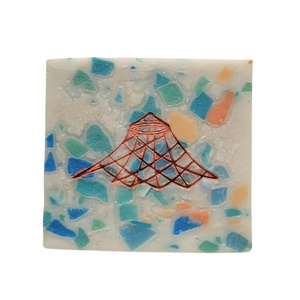 Riverfront Pavilion w/ Pumice
Regular price $12.50 Sale
Riverfront Pavilion Artisan Soap: A Tribute to Spokane's Splendor 
Celebrate the charm of Spokane with our Riverfront Pavilion Artisan Soap. Each bar proudly features the stamped design of Spokane's iconic Riverfront Pavilion, making it a cherished keepsake or a thoughtful gift for those who hold the city's allure close to their hearts.
Product Highlights: Discover Spokane's essence in every wash with our Riverfront Pavilion Artisan Soap. Each bar bears the symbol of the Riverfront Pavilion, serving as a tangible connection to the city's beloved landmark.
Vibrant Hues, Distinct Patterns: Indulge in the beauty of Spokane's vibrant colors with our soap's distinct color block pattern. While the example picture provides a reference, rest assured that each bar is a unique masterpiece, celebrating the city's allure in its own captivating way.
Crafted with Passion: Embrace the fusion of nature's beauty and skilled craftsmanship in every use. Our artisan soap offers more than mere cleansing – it's a work of art that infuses joy and relaxation into your everyday routine.
Invigorating Aromas, Thoughtful Formulation: Indulge your senses with the invigorating freshness that lingers on your skin. Our soap is thoughtfully formulated with carefully chosen paraben-free and phthalate-free fragrances, enriched with essential oils that add a delightful aroma to your daily bathing experience.
Premium Ingredients for Nourished Skin: Crafted with care, our soap features premium ingredients, including saponified Olive Oil, Coconut Oil, Tallow, Shea Butter, and Castor Oil. This exquisite blend cleanses and nourishes your skin, leaving it feeling soft and supple.
Artistic Additives for a Luxurious Bath: Elevate your bathing experience with our meticulously selected bar additives, including Ground Pumice for gentle exfoliation, Micas and Pigments for a touch of sparkle, and Titanium Dioxide for a vibrant color backdrop that makes the hues pop.
Handmade with Love and Dedication: Each soap is crafted by hand with love, ensuring unparalleled quality and craftsmanship. We pour our dedication into every bar, making it a memorable addition to your daily self-care routine.
Discover Spokane's Allure: Explore the Spokane Artisan Soap Collection, featuring captivating landmarks like the Clock Tower and Garbage Goat. Whether it's a personal treat or a special gift, our artisan soaps encapsulate the vibrant spirit of this city. Find the set under the 3-Pack Artisan Soap listing on our website and embrace Spokane's beauty with every wash.