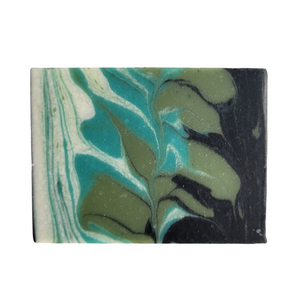 Black Spruce & Anise
Regular price $12.50 Sale
Black Spruce & Anise Artisan Soap: Embrace Nature's Tranquility
Elevate your daily cleansing routine to a forest-inspired retreat with our captivating Black Spruce & Anise Artisan Soap. Crafted as a testament to nature's beauty, this exquisite creation harmoniously blends invigorating scents and artistic design for a truly enchanting bathing experience.
Product Highlights: Immerse yourself in the captivating beauty of our Black Spruce & Anise Artisan Soap. Each bar is a unique masterpiece, featuring a mesmerizing Taiwan swirl pattern that mirrors the lushness of a forest. Let its captivating colors inspire tranquility in your self-care routine.
Enchanting Scent Notes: Transport your senses to the heart of a lush forest with the enchanting blend of Black Spruce, crisp air, amber, sandalwood, balsam fir, vetiver, anise, and musk. Each use revitalizes your mind and body, bringing the rejuvenating essence of nature into your daily cleansing ritual.
Crafted with Meticulous Care: Experience the luxury of a soap meticulously crafted with only the finest ingredients. Our expert blend of Saponified Olive Oil, Coconut Oil, Tallow, Shea Butter, and Castor Oil ensures a rich and creamy lather that nourishes and hydrates your skin, leaving it irresistibly soft.
Thoughtful Additives for Beauty and Wellness: Our commitment to excellence shines through our thoughtfully selected additives. Delight in the benefits of paraben-free and phthalate-free fragrances, essential oils, micas, pigments, activated charcoal, and titanium dioxide. These natural enhancements not only create enchanting colors but also contribute to the soap's cleansing and skin-loving properties.
Ethical and Eco-Friendly Practices: Experience a soap that aligns with your values. Our small-batch production minimizes waste and ensures each bar receives the utmost care. We prioritize ethical sourcing, cruelty-free practices, and eco-friendly methods in every step of our creation process, reflecting our dedication to sustainability.
Ideal for Thoughtful Gifting: Presented in elegant and eco-friendly packaging, our Black Spruce & Anise Artisan Soap makes for a meaningful gift on any occasion. Whether it's a birthday, holiday, or a gesture of appreciation, the unique design and alluring scent of this soap will captivate and delight your loved ones.
Step into Nature's Embrace: Immerse yourself in the serenity of a forest retreat every time you indulge in the beauty of our Black Spruce & Anise Artisan Soap. Elevate your self-care ritual with a touch of nature's tranquility, leaving your skin rejuvenated, nourished, and gently scented. Treat yourself or a cherished friend to an enchanting experience today.