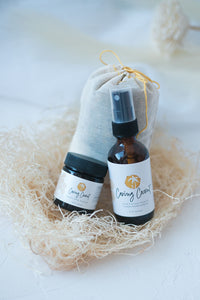 Birth Professional Bundle
Regular price $200.00 Sale
The Ultimate Self-Care Gift for Your Clients: The Herbal Postpartum Kit Bundle!
As a dedicated midwife or birth professional, your clients' well-being is your top priority. Elevate your service and provide them with the perfect gift of self-care through our Wholesale Herbal Postpartum Kit Bundle. This thoughtfully curated bundle consists of 10 unboxed sets, each carefully designed to promote postpartum healing and rejuvenation.
Inside each kit, your clients will find a harmonious trio of self-care essentials:
All-Purpose Salve (0.85 oz): Crafted with the finest natural ingredients, our All-Purpose Salve is a gentle yet powerful healing solution. It offers soothing relief to tender areas, promotes skin rejuvenation, and aids in minimizing discomfort during the postpartum period.

Soothing Spray (2 oz): Our Soothing Spray is specially formulated to provide instant comfort and relief. Enriched with calming botanicals, it offers a refreshing mist that soothes and nurtures, helping your clients feel revitalized and reinvigorated after childbirth.

Herbal Bath Bag (wrap and preparation instruction card included): Indulge your clients in the ultimate relaxation experience with our Herbal Bath Bag. This exquisite blend of therapeutic herbs is expertly crafted to soothe tired muscles, reduce tension, and promote overall well-being. The included wrap and preparation instruction card ensure a seamless and blissful bathing experience.
Benefits of Our Herbal Postpartum Kit Bundle:
Nurturing Self-Care: Show your clients that you care about their postpartum journey by providing them with the tools to embrace self-care during this transformative time.

Natural and Safe: Our products are carefully handcrafted using only the finest natural ingredients, free from harmful chemicals and additives, ensuring maximum safety for both mother and baby.

Enhancing Postpartum Healing: The healing properties of our All-Purpose Salve and Soothing Spray are designed to aid in the recovery process, promoting faster healing and reducing discomfort.

Holistic Relaxation: The Herbal Bath Bag offers a therapeutic and luxurious bath experience, promoting relaxation and reducing stress during the postpartum period.

Perfect Gift Solution: Whether it's for a baby shower, postpartum visit, or just a gesture of appreciation, our Herbal Postpartum Kit Bundle is the ideal gift that will leave a lasting impression on your clients.
Don't miss the opportunity to enhance your service and provide your clients with a gift that will truly make a difference in their postpartum journey. Order our Wholesale Herbal Postpartum Kit Bundle today and witness the joy and gratitude it brings to the new mothers you serve.
Invest in their well-being, and they'll remember the care and support you provided during this special time in their lives. Place your order now and let the healing power of nature take center stage in your practice!