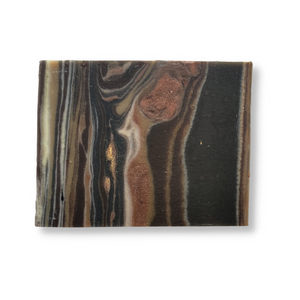 Cedar & Saffron
Regular price $12.50 Sale
Cedar Saffron Artisan Soap: Elevated Bathing at Its Finest
Experience the ultimate in luxurious bathing with our captivating Cedar Saffron Artisan Soap. Meticulously crafted to perfection, each bar is a unique masterpiece, adorned with a mesmerizing wood grain design that transforms your daily wash into a truly artistic delight.
Product Highlights: Elevate your self-care routine with the exquisite Cedar Saffron Artisan Soap. Discover the allure of a distinct wood grain pattern that enhances the visual appeal of your bathing experience.
Enchanting Scent Symphony: Indulge your senses in the captivating blend of patchouli, sandalwood, vetiver, spices, and white musk. Allow this harmonious fusion to transport you to a realm of tranquility as you cleanse both body and soul.
Crafted with Precision: Discover artisanal craftsmanship in every Cedar Saffron Soap bar. Meticulously created, each bar is a testament to quality and care. The combination of meticulously selected ingredients, including Saponified Olive Oil, Coconut Oil, Tallow, Shea Butter, and Castor Oil, guarantees a rich lather that leaves your skin feeling irresistibly soft.
A Symphony of Ingredients: Our commitment to excellence extends to the thoughtful additives used. Immerse yourself in the goodness of fragrances that are paraben-free and phthalate-free, as well as essential oils, micas, pigments, activated charcoal, and titanium dioxide. These natural enhancements not only contribute to the soap's aesthetic appeal but also enhance its cleansing and skin-nourishing properties.
Artistry for Your Soul: Rediscover the art of bathing with the Cedar Saffron Artisan Soap. The distinctive wood grain design captures both your eyes and senses, offering an experience that marries visual and aromatic delight. Elevate your self-care ritual with a touch of sophistication and refinement.
Elevate Your Bathing Experience: Cedar Saffron Artisan Soap provides an elevated bathing experience that nurtures your skin and uplifts your spirit. Immerse yourself in the captivating scents and elegant design, and transform your daily cleansing into a moment of sheer indulgence. Treat yourself or a cherished one to this masterpiece of elevated luxury today.