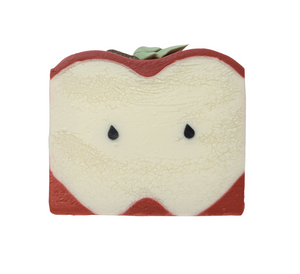 Awesome to the Core
Regular price $12.50 Sale
Awesome to the Core Artisan Soap: Embrace Nature's Goodness
Awesome to the Core, a perfect gift for teachers, the holiday season, and Washington State enthusiasts. Crafted in the heart of Spokane, Washington, the Apple State, our soap combines the cozy scents of fall and Christmas with a nod to sports fans of the Apple Cup and college alumni.

Scent Sensation:
Indulge in the heartwarming scents of cinnamon, nutmeg, and warm brown sugar as you lather up with our soap. These delightful notes capture the essence of the holiday season and the comforting aromas that fill the air during this festive time of year.

Apple State Pride:
Washington State's nickname, the Apple State, is well-deserved, and our soap pays tribute to this bountiful legacy. It's the ideal gift for anyone who adores the crisp, juicy goodness of Washington apples.

For Sports Fans:
Whether you're a die-hard Apple Cup enthusiast or a devoted college alum, our soap is more than just a skincare product; it's a celebration of your team spirit and alma mater. With each use, you can wash away the day's stress while rekindling your love for your favorite team.

Holiday Cheer Year-Round:
While our soap is perfect for the holiday season, its warm and inviting fragrance is a year-round treat. It makes an excellent gift for teachers, friends, family, or a special indulgence for yourself, no matter the time of year.
Customer Review
"Love these soaps. I purchased the Stay Sharp and Awesome to the Core soaps for end-of-year teacher gifts. The teachers loved them and said they were the cutest gift they had ever received. Such amazing quality and a wonderful scent made with natural ingredients. Will definitely be buying more in the future."
- Rachel