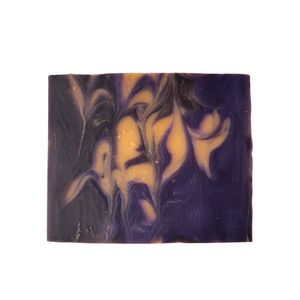 Radiant Orchid
Regular price $12.50 Sale
Radiant Orchid Artisan Soap: A Symphony of Elegance
Elevate your bathing experience with the enchanting allure of our Radiant Orchid Artisan Soap, meticulously handcrafted with unwavering love and care. While the example picture offers a glimpse, each bar is a unique masterpiece featuring its own mesmerizing swirl pattern, adorned with captivating hues of purple, black, and orange. Every bar tells a story of artistic expression, making it a delightful addition to your bathroom or a cherished gift for your loved ones.
Fragrance Symphony: Immerse yourself in an olfactory symphony that embodies sophistication and luxury. The fragrance profile of Radiant Orchid is a harmonious blend of alluring florals, accentuated by a refreshing citrus touch. As the notes dance, they intertwine with warm, exotic woods and a subtle hint of aromatic herbs, transporting you to a realm of indulgence and opulence.
Nourishing Base Ingredients: Our soap bars are a result of a thoughtful curation of the finest natural ingredients. We infuse the goodness of saponified Olive Oil, Coconut Oil, Tallow, Shea Butter, and Castor Oil, harmoniously working together to envelop your skin in a cocoon of nourishment. The result? Skin that feels luxuriously soft, supple, and revitalized after every use.
Elegantly Thoughtful Additives: At Caring Coconut, our commitment to your skin and the environment is unwavering. Our soap bars are enriched with paraben-free and phthalate-free fragrance, essential oils, captivating micas, and natural pigments. These meticulously selected additives not only enhance the visual allure of the soap but also contribute to a gentle and soothing bathing experience that pampers your senses.
Experience True Handmade Luxury: Delight in the opulence of a genuinely handcrafted soap, a testament to the artistry and dedication poured into each bar. Elevate your self-care routine to new heights, whether it's a personal treat or a thoughtful gesture for someone special. Don't wait any longer – let our exceptional Artisan Soaps redefine your bathing ritual. Your skin deserves the absolute best, and we're here to ensure that every lather is a symphony of elegance and indulgence.