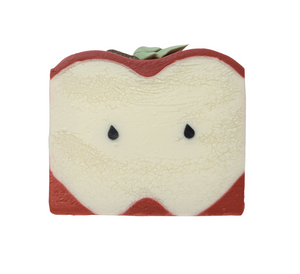 Awesome to the Core
Regular price $12.50 Sale
Awesome to the Core Artisan Soap: Embrace Nature's Goodness
Elevate your bathing ritual with our signature creation – the Awesome to the Core Artisan Soap. Crafted to capture the essence of nature's bounty, this exceptional soap is a celebration of simplicity and indulgence. Its allure lies in the harmonious fusion of premium ingredients and a design that pays homage to the apple's exquisite beauty.
Product Highlights: Immerse yourself in the essence of fresh apples with our meticulously handcrafted Awesome to the Core Artisan Soap. A symbol of nature's goodness, this soap not only cleanses but also nurtures your skin, leaving it irresistibly soft and supple.
Invigorating Fragrance Notes: Experience a symphony of invigorating scents as you bathe. The lively notes of freshly-squeezed lemon, sweet honey, zesty orange, and more, come together to create an invigorating aroma that awakens your senses.
Luxurious Ingredients for a Soothing Lather: The heart of this artisan soap is a blend of saponified Olive Oil, Coconut Oil, Tallow, Shea Butter, and Castor Oil. This masterful combination ensures a lavish lather that gently cleanses and pampers your skin, making each bath a truly indulgent experience.
Craftsmanship Inspired by Nature: Embrace the beauty of nature's design with the sculpted layers of our Awesome to the Core Artisan Soap. Its apple-inspired appearance is a testament to our dedication to both form and function, making it a delightful addition to your self-care routine.
A Token of Thoughtful Luxury: Whether as a gift for yourself or a cherished loved one, the Awesome to the Core Artisan Soap embodies the purity of nature's embrace. Elevate your bathing experience with a touch of rustic charm and the richness of premium ingredients.
Customer Review
"Love these soaps. I purchased the Stay Sharp and Awesome to the Core soaps for end-of-year teacher gifts. The teachers loved them and said they were the cutest gift they had ever received. Such amazing quality and a wonderful scent made with natural ingredients. Will definitely be buying more in the future."
- Rachel